Tremor
The components and circuit design of this amp are identical to the "production" Tremor.  The differences are as follows:
·         Does not have reverb
·         Eyelet board construction (not turret boards)
·         Chassis size
·         Component layout
·         Cabinet size and design
·         NFB control on back panel has been disconnected
·         Wiring is not as pretty
·         Faceplate cosmetics are not as pretty
It does feature Mercury Magnetics transformers and an optional tweed cab.  This is an opportunity to pick up a Tremor for the cost of materials.
Price:    $699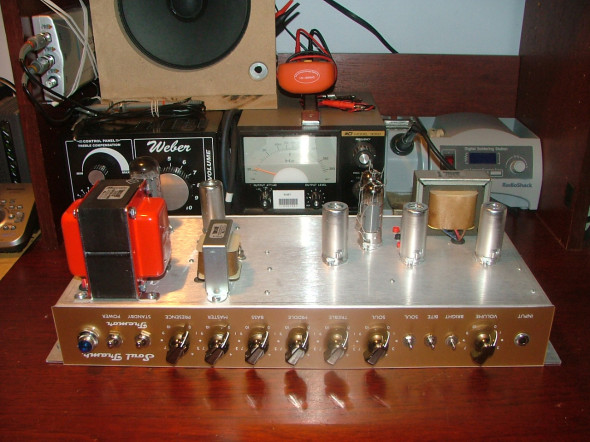 Specifications
·         18 Watts
·         Tube rectified
·         Fixed bias
·         Tube buffered parallel FX loop
·         4/8/16 ohm speaker selection
Tone Shaping
·         Clean channel volume
·         Soul channel volume
·         Bright
·         Bite
·         Treble
·         Middle
·         Bass
·        Master Volume (Post Phase Inverter)


·         Presence
·         FX On/Off
·         FX Level
·         FX Mix
Tube Compliment
·         12AX7 (3)
·         12AT7  (1)
·         EL84    (2)
·         GZ34    (1)