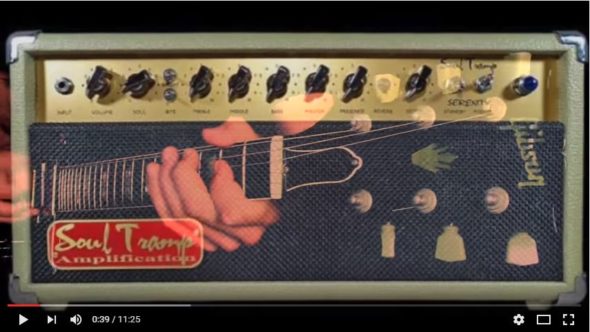 Demo Video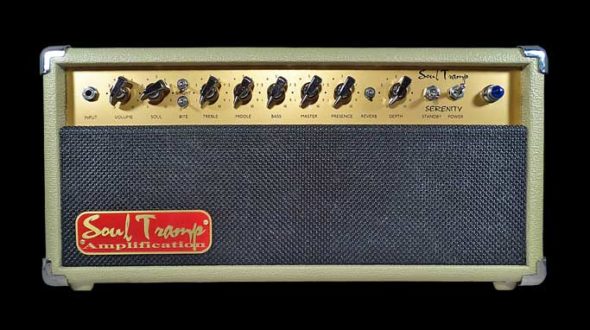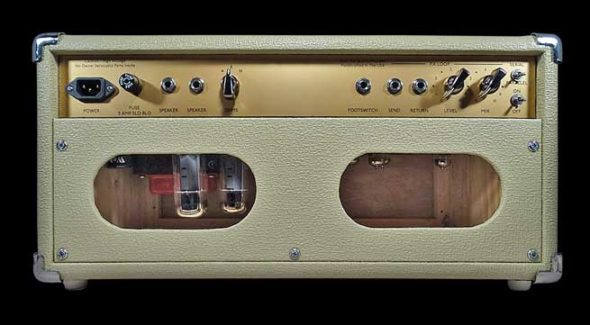 Serenity – $3,195
The Serenity's design was inspired by the "British" voiced amps.  Amps like the Marshall Plexi and Traynor YBA.  These were loud amps with a distinctive distortion that was in stark contrast to the warm rich Black Face Fender amps.  The Serenity captures that voicing, but then kicks it up a notch with the foot switch controlled "Soul" channel.  It's an amp that spans the tonal spectrum from Fender cleans to Marshall distortion.
As with all Soul Tramp amps, the clean signal path, quality components, and meticulous design produce an amp that becomes an extension of the musician.
The Serenity uses the largest (and most expensive) transformer set of all the Soul Tramp guitar amplifiers.
The tube spring reverb can be mixed with just a touch to compensate for room acoustics or dialed in deep enough to feel the surf.

The tube buffer parallel FX loop offers extreme flexibility.  The Level control allows you to set the gain of the signal sent to your pedal board or rack, and the Mix control lets you blend the returned wet signal with the dry preamp signal. 
A toggle switches the loop between parallel and serial mode.
There are chassis mounted bias probe jacks for each power tube, and a bias adjustment pot.
Specifications
40 watts

         

EL34 power tubes

         

Fixed biased

         

Diode rectifier

         

Mercury Magnetics transformers

        

1-Button Foot Switch

   

Tube driven spring reverb

        

Tube buffered parallel/serial FX loop

       

 

4/8/16 Ohm selector

        

Mercury Magnetics Transformers

Dimensions – 20.75″L x 11″W x 10″H

Weight

Cover Included
Tube Compliment
12AX7  (4)

12AT7   (3)

EL34     (2)
One-Button Foot Switch
Jumps between the Clean and Soul Channels
Front Panel
Input

HI/LO

Clean channel volume 

Bright

Bite

Soul  channel volume

Slope

Treble 

Middle 

Bass 

Drive

Master volume

Presence

Standby

Power

Pilot Light
Rear Panel
Power

Fuse

Speaker

Speaker

Ohms

Reverb On/Off

Reverb depth

Foot Switch

FX Send

FX Return

FX loop level

FX loop mix

 

FX Parallel/Serial 

FX On/Off   

 

   

   
Option
s
Black or Blonde Tolex

2X12 Combo Cabinet